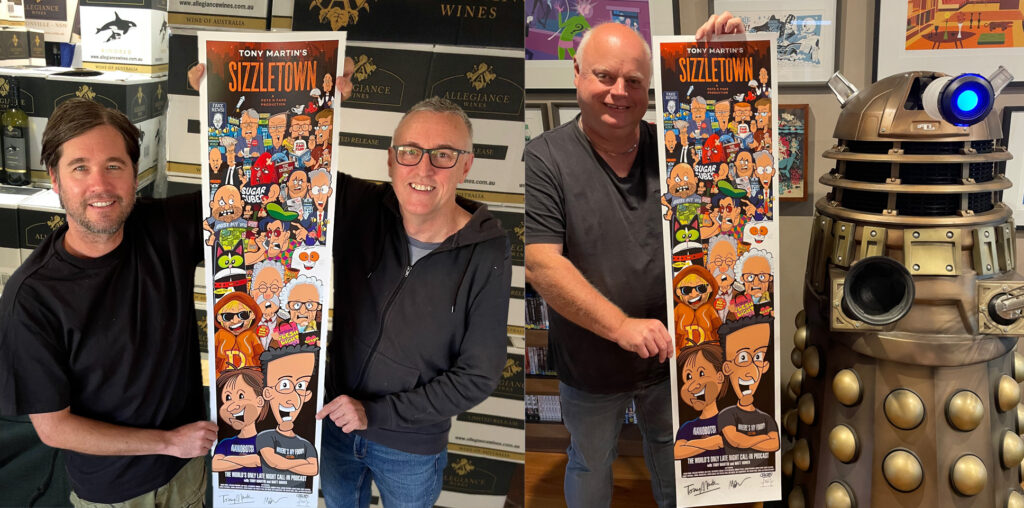 Allegiance Wines is once again proud to sponsor the unique and hilarious Tony Martin's Sizzletown podcast. Now that Heathcote Shiraz has finally received his samples, we are back to support Tony & Matt at Podworks.
We commissioned Sizzletown's brilliant resident artist Glenn 'GROB' Robinson to produce a limited run of a high quality original Sizzletown poster. These are a professional production on premium stock that you will want to frame! The poster includes all your favourite callers plus some obscure gems for Sizzle Merchants to decipher.
Individually numbered 1 to 200 and personally autographed by Tony, Matt and Grob!
How do you get yourself one of these limited collectors edition posters for FREE?
1. Go to allegiancewines.com.au/shop
2. Select any 12 wines from the great selection of Allegiance Wines including these Sizzletown Collectors items:
SIZZLETOWN SIGNED THE ARTISAN McLAREN VALE SHIRAZ 2018 1.5L MAGNUM
SIZZLETOWN SIGNED GIFT BOX THE ARTISAN McLAREN VALE SHIRAZ 2018 1.5L MAGNUM
3. Use the discount code SIZZLE at checkout for 20% off your wine
4. We will include a free Limited Collectors Edition GROB Sizzletown poster with your 12 wines
5. Select which family photo in your house you will be taking down to replace with your poster when it arrives
WARNING: Please do not follow Clive Howlett's example of cutting out his eyes on the poster to watch and record his ex-wife with Dick Roundabout for a new podcast series.